I am a Grey's Anatomy fan. It's corny sometimes, the patient cases are a little too convenient to the main characters personal problems, the doctors do everything that the nurses usually do, and I get a little tired of everyone sleeping around…but this is a show that I continue to tune into season after season.
One problem I've always had with Grey's was its lack of African American female leads. We have Bailey, who started out as a powerful character. She was one of the few I could think about without shaking my head. However, Bailey, like everyone at Seattle-Grace-Mercy-West-Grey-Sloan hospital, fell into the trap of whining about relationships, sleeping with men in oncall rooms, and performing activities beyond the scope of her medical practice after having an emotional breakdown.
But that was fine. Maybe the AA women who watched the show wanted Bailey to be a more desirable character who had her own flings every once and awhile.
What I couldn't tolerate…were Bailey's wigs.
Bailey pre-wig
 I can't remember in what previous seasons Bailey wore a wig though I know it's been off and on. I absolutely hated it!
Now, I start watching season 11 and there's a blasted wig again. I'm not at all against wigs and weaves on actresses. I just wish they'd given her something better. It looks like they went down to the local beauty supply store, plopped down a 20 dollar bill, and asked for whatever they had off the rack. Grey's Anatomy is a pretty popular show even after 10 seasons. I know they can get Bailey a high class wig or weave!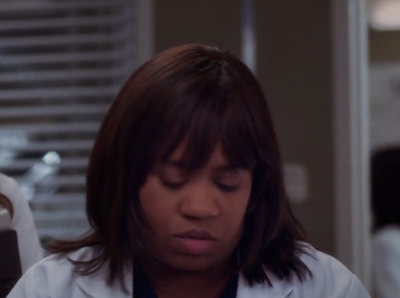 Bailey Season 11 Wig
I am not, by any means, anti wig. And I probably have one that looks like that in my stash somewhere. But doggone it, I'm not on TV.
Okay. Okay. I'm done with that.
So back to the subject of  black female leads on Grey's. We had Kimberly Elise for a bit but she was a pretty distant (and dare I say a bit mean?) character that only stuck around for a few episodes.
Then came season 9. Stephanie Edwards, played by Jerrika Hinton, was one of the dreaded interns who I at first hated. It was nothing person. All of the interns got on my nerves. But even while I hated her character, I still admired all that lovely hair!!
I'm not sure if she's currently natural, but her hair is thick and lush. She was a major love interest until things went south (of course) but she's still in the show and hopefully will remain.
Fast forward to this most current season and we have another brown skinned beauty enter. Maggie Pierce, played by  Kelly McCreary, was an unwelcome addition at the end of last season. I was grieving, as were most Grey's fans, over the loss of Christina Yang and Maggie was her replacement. Then when the cliff hanger of her being Meredith's sister came out in the finale, I was too through.
ANOTHER sister? How many half siblings does Meredith need to have? I tuned in the first episode of the latest season dubiously. Mostly I wanted to warn her new sister to get out of town because anyone related to Meredith Grey seems to die a horrible and tragic death. She was…okay…in the first episode, but last night's episode made me fall in love with the character.
In the second episode of the season, we learn more about Maggie. She is knowledgeable, smart, optimistic (not annoyingly so), but also vulnerable. I thought she was a push over, but she seems to be anything but. And best of all, she has great natural hair.  Kudos to Shondra Rhimes for this addition.
Please don't kill her in a plane/trane/gurney crash. Thanks.
{ 0 comments }