101 Twisted Styles
If you'd like to submit a twisted hair style, here are the "rules":
Hairstyle must involve twists, but can be combined with other styles such as cornrows
No kinky twists or styles that involve fake hair
Please include a picture taken in good lighting, preferably at least 2 different angles, though one angle is fine. Please also ensure that the picture is not too small or taken from too far away.
Twists preferably done on hair in its natural state…in other words, no flat ironed hair. Lightly blown out or stretched hair is fine.
Transitioning hairstyles that involve twists are welcome. Please indicate that the style is a transitioning style.
This page will be updated as styles are gathered
Style #1–Plain old twists done on wet hair
Done on wet hair, which allows the twists to shrink up
No comb parts, just grab and twist
Tutorial is here
Style #2- Plain old twists done on dry hair
Twists done on dry hair allow more length to be visible
May need to stretch hair out before twisting with banding or some other method
No comb parts, just grab and twist with a small amount of moisturizing butter
Style #3- Twists in high donut bun (Bun #1)
Twists done on dry hair in high bun
Used ouchless band to gather hair in high ponytail and then bobby pins to make bun
Style #4 Twists Half Up/Half Down
Twists gathered at the top with flexi 8 accessory.
Style #5-Loosely pulled back low pony
Pre-stretched goody band loosely applied to twists at base of neck
Style #6- French Twists with 2 Flat Twists in the front (Updo #1)
-Style courtesy of Alecia @ Bang-Bang's Quest for Yay, Yum, and Yes
Style #7–Updo with Goody Ouchless Clip (Updo#2)
-Style courtesy of JoyCurl (fotki)
Style #8–Mini twists
–Style courtesy of Mookshair (fotki)
Styles #9– Big twists in bun with twistout bang (Bun #2)
-Style courtesy of Mookshair (fotki)
Style #10- Cornrows in front, twists in back
-Courtesy of Mookshair (fotki)
Style # 11 Half up Half Down Updo (Updo #3)
Style #12 Twists in Low Side Ponytail
Style #13 Twists in Low Side Bun (Bun #3)
Style #14 Flat Twisted-Pin Curled Mohawk (Updo #4)
Tutorial (click here for channel):
Style #15 Cornrow Updo (Updo #5)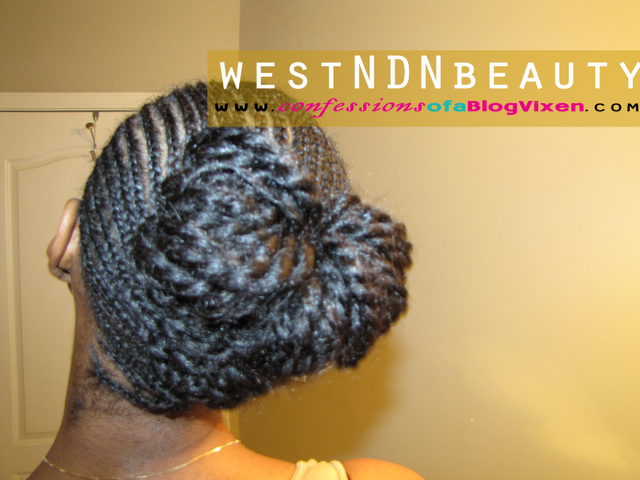 Tutorial (click here for channel):
Style #16 Easy Twisted French Braid Tuck Under
Style #17 Braidout on Twists
Style #18 French Roll with Pin Curls (Updo#6)

*photos courtesy of Chantal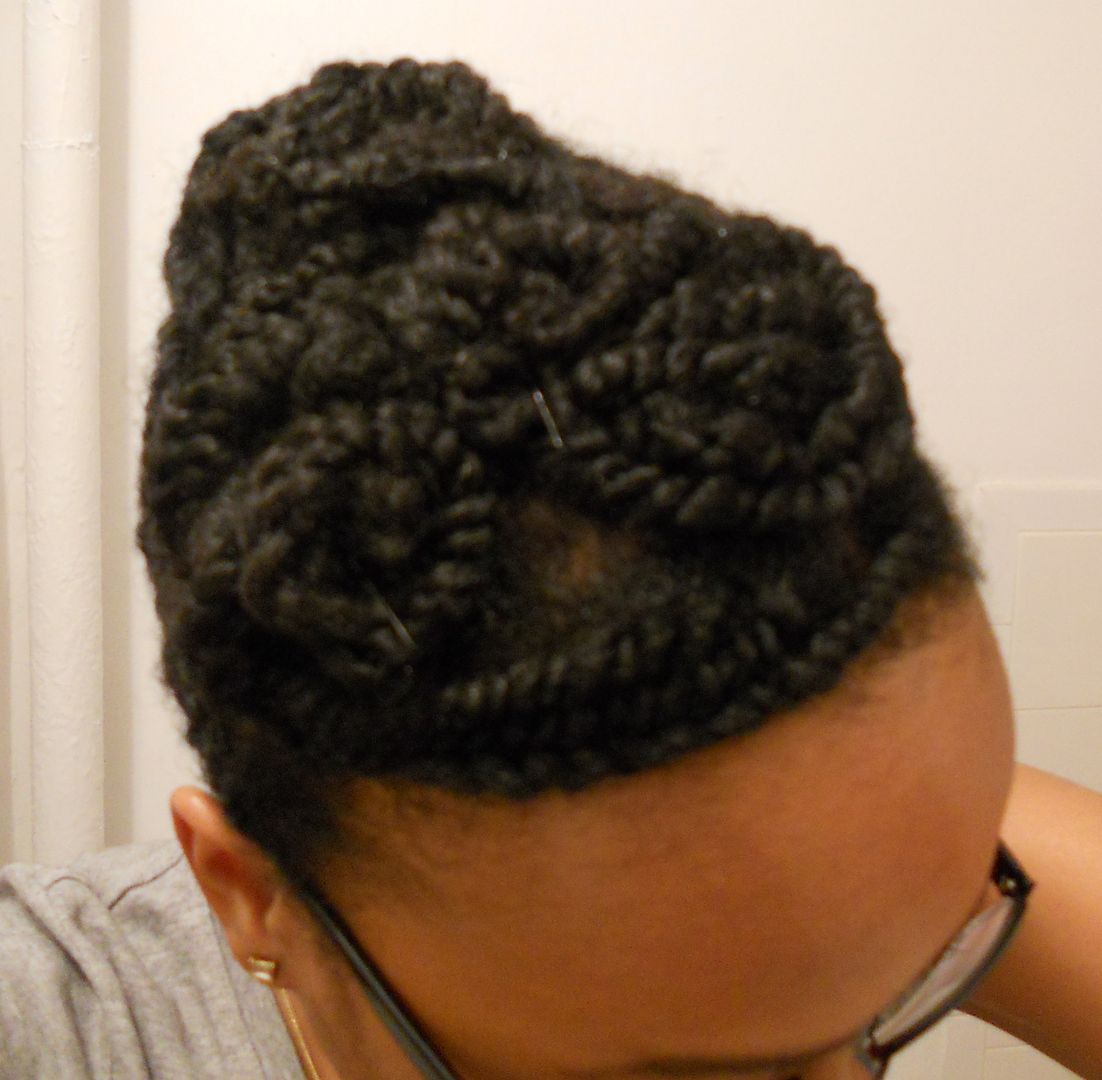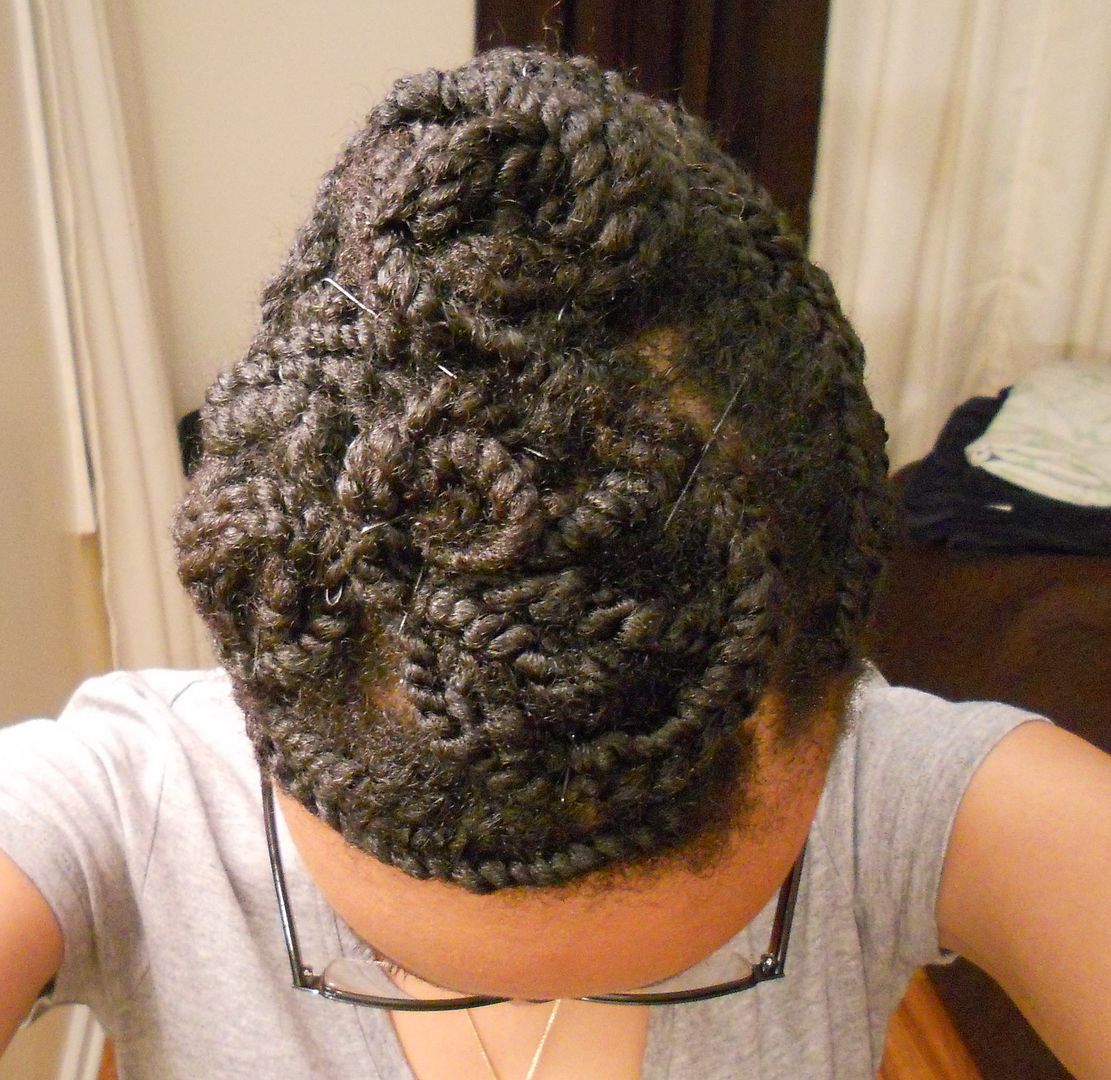 I deep conditioned (on dry (and dirty)) hair with AOWC and Hairveda SitriNillah, I washed my hair with Giovanni 50/50 shampoo and detangled with Aussie Moist
I then did medium twists on wet hair all over my head with a part on the left side.  I let the twists dry overnight.
Then I did a french braid up the back using mainly the inner most twists and leaving out a section a little larger than my palm for the pin curls at the top.
Once at the top I completed the braid and laid it against my scalp.  I then gathered the bang/fringe part in the front and did pin curls to cover the braid and to form my fringe/bang.  I basically just pinned them in ways to cover the roots and I made a swoop because I need something on my forehead–it's king of big, haha.  Then with the loose twists on the sides of the braid, I swooped them across the braid on an angle (four/five from one side and four/five from the other underneath the first set of swoops).
Style #19- Flat twists with off center part, twists in back
*Pics courtesy of RJ!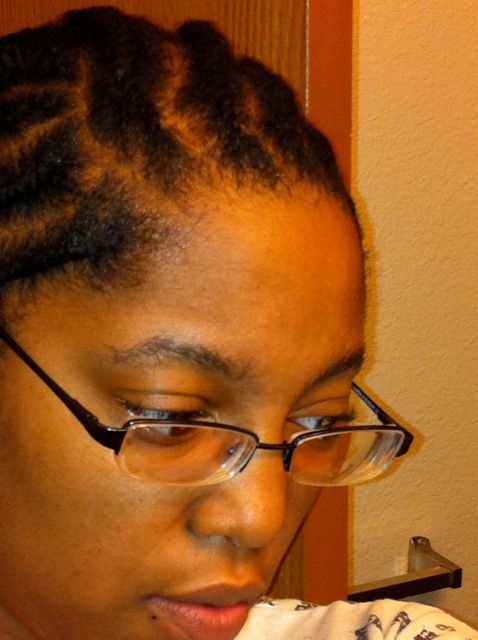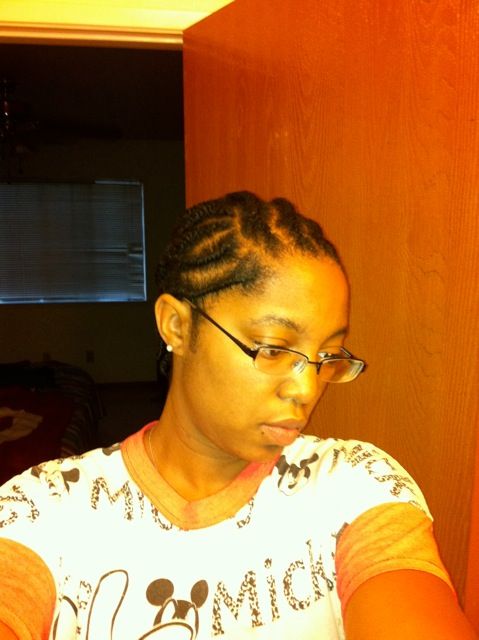 Style #20 Lady Bug Twists
*Pics courtesy of RJ
For those looking for children's styles – I apologize, but it's hard to keep a one year still enough to photograph sometimes, but I flat twisted my daughter's hair into two high pony-tails for halloween and used scrunchies to make them stand up.  This was mainly because we managed to buy this costume and somehow the "antennae" headband wasn't in the bag so rather than wig out about it, I improvised.  I have 2 after Halloween photos of what can be done with this as well.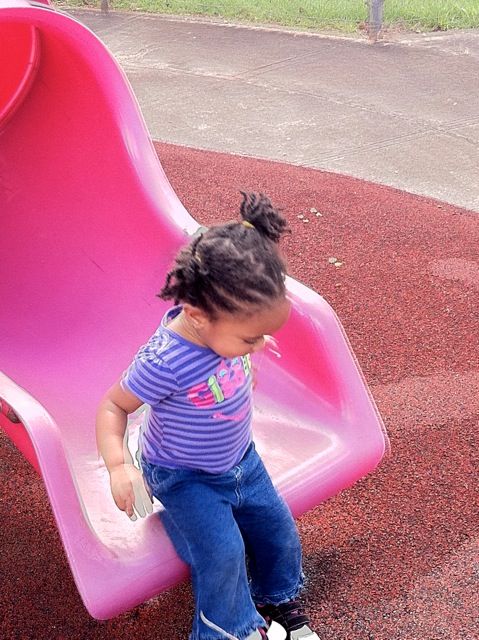 Style #21 (Updo #7) Twisted Back Updo, Loose Front
*Courtesy of Faith

Click on picture for video tutorial.
Style #22 (Bun #4) Twisted Swirly Bun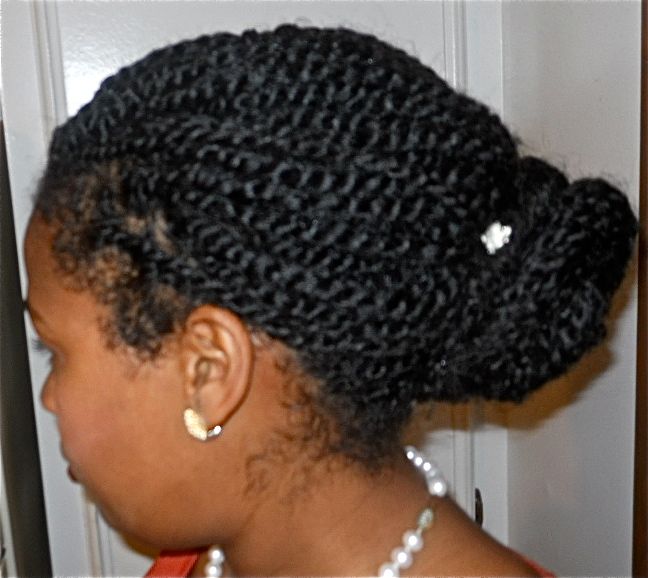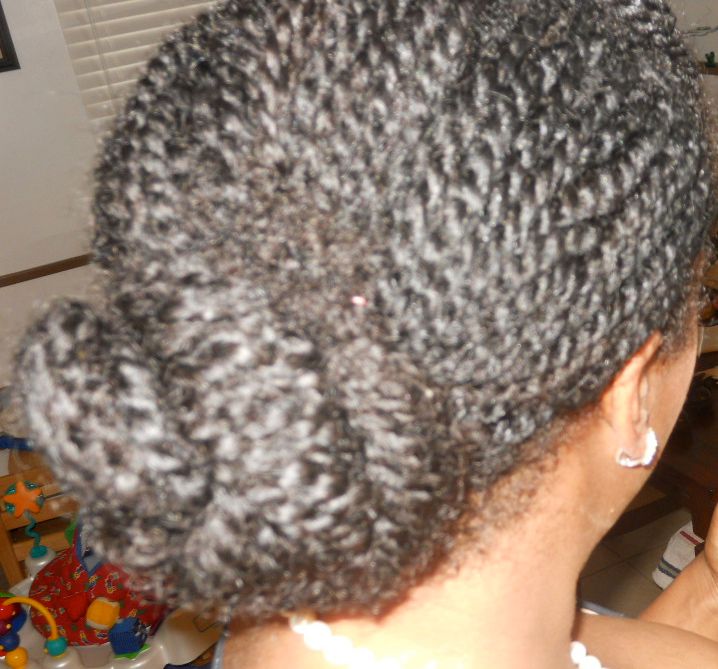 Style #23 Flat Twist Side Bun (Bun #5)
Click on picture to view tutorial by NotoriousLYNappy1.
Style #24 Criss-crossed flat twists/twists
Thanks to Dominique-Alexis of Natural Hair Care Info:
I used moisturizer, peanut oil, a rat tail, a wide tooth, and rubber bands to accomplish this style. Using my sisters real natural hair, I cornrowed half her head, then did simple two strand twists on the side. She got SOOOOOO many compliments on this style. A cute style that's a bit out of the ordinary. Enjoy
Style #25 Twisted Updo (Updo #8)
Tutorial (courtesy of OLUB20):
#26 Cornrowed Updo with Side Twists (Updo #9)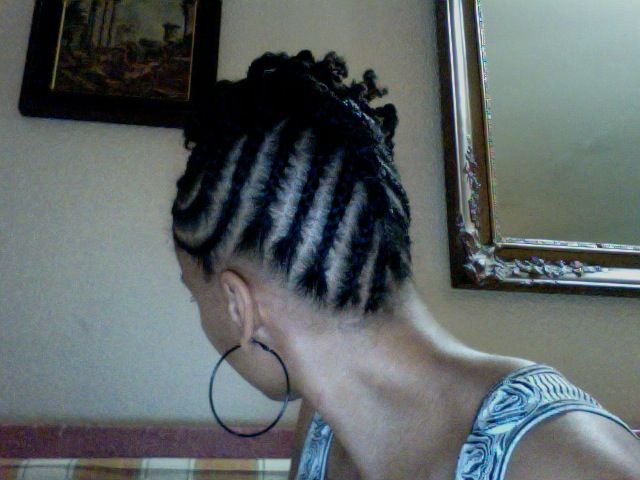 Courtesy of Bettina:
Cornrowed up the back and along one side. Two strand twists on one side. Spray bottle with water and coconut oil + essential oils gel to smooth and hold the twists and cornrows.

Wore the twists pinned up or hanging down.
Style #27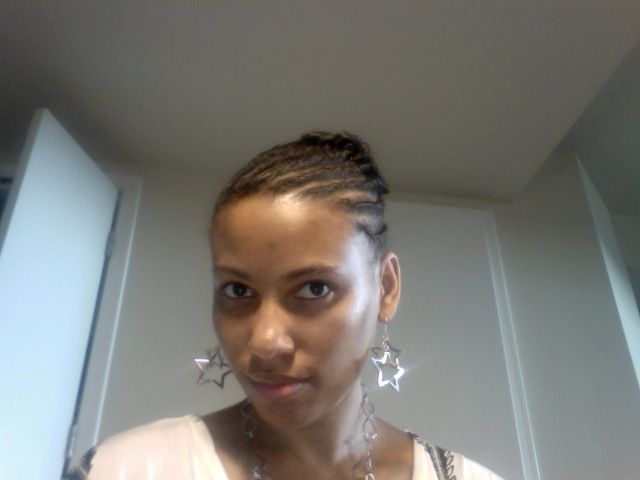 Courtesy of Bettina:
Blowdried hair. Spray bottle with water and a mixture of coconut oil and other essential oils used as 'gel' to hold the twists in the front. The back is twisted and secured with rubber bands and then bobby pins.
More to come!