I was reading an article on Naturallycurly about curlies wearing hats. It said that curly/kinky hair was perfect for hats. Here is the article if you are interested in reading it.
I was a big hat wearer back when I was in high school and since I'm always looking for accessories to spice up my life, I went hat hunting.
I found this beauty at TJMaxx for about 5 dollars.I used a little Burdock Root Creme on my hair and then plopped the hat on.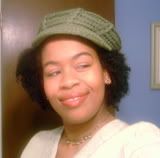 Next I have a beautiful tam that my best friend made for me! Thanks sweetpea (click here to read her natural story)!
It is crocheted and made of yarn so , just to be safe, I wore my satin scarf under it. I included a picture of how I wrapped the scarf on my head first  What better protective style could I have asked for?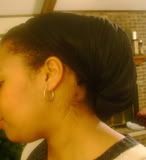 I can't wait to hunt out more hats. I'm on the prowl now! Maybe I will end up developing a hat addiction just as I have a product addiction.