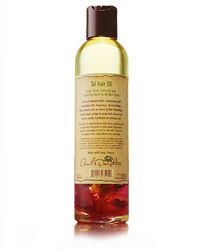 Company Name: Carol's Daughter
Product Name: Tui Hair Oil
Price: 8 oz $18.00
Ingredients: Zea Mays (Corn) Oil, Fragrance, Calendula officinalis Flower Extract, Chamomilla Recutita (Matricaria) Flower Extract. May Contain: Dried Angel Wings (Assorted Colors).
Constiency: Oily
Purchase from: Carol's Daughter
Review:
So I read the ingredients to this and I was like, "corn oil"?? I was a little put off by this because I was expecting a higher quality oil such as olive and the like. I've heard of people using Crisco on their hair however so I decided to do some research. I've found quite a few supposed benefits of corn oil for hair care, so you can be expecting a post about it in the future.
The bottling is very attractive. There are flower petals in the container, so pretty! Putting aside any negative feelings about corn oil (all I could think of was frying chicken, weird, huh?) , I went ahead and opened it up only to be enraptured by the smell of this stuff. Can you say heaven? Very sweet, almost like bubblegum, though a friend of mine disagrees on that.  Maybe if there were a natural bubblegum that wasn't overly sweet, that would be the fragrance.
I used it to oil rinse because that's how most oils fit into my haircare routine. Loved it! Next I tried it on my scalp with good results. Finally I tried it on my hair to leave in. As I have said before, I'm not a big oil person. The first time I tried this on my ends, I think I used too much. The next time, I rubbed it into my hands and lightly applied it. That turned out much better and my hair was soft with a sheen to it.
The price is a little bit much for me to spend on a regular basis but if you are an oil person, this might be something you want to add to your collection. (I feel the need to add to any newbies reading that oils do not generally moisturize, but they are good for sealing, oil rinsing, and shine).