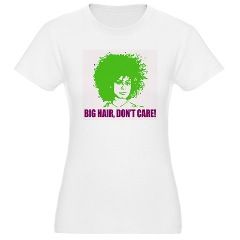 We all love those natural hair tees! Here is a lady with some big beautiful hair that also makes some beautiful tees…about big beautiful hair! Thanks so much, Chime, for letting us see your hair and your great designs. You can visit Chime's online store here. Not only does she have natural hair shirts, but also sorority and Obama related items.
She also has a fotki with a ton of inspirational hair pictures.
I just love to see you natural ladies getting out there and being businesswomen. Keep it up!!
The Lady:
Kcurly: When did you go natural and what inspired you to do so?
Chime: I started transitioning in October 2006. I decided to go natural when one of my professors made me question why we as African Americans chose to conform to the Eurpoean standards of beauty.
Kcurly: Have you faced opposition from your peers and/or family about your hair? If so, what has been your method of handling it?
Chime: Oh yes! I just kept my goal in mind and I knew that they did not fully understand my decision. I recognized that their mindsets were the same as mine when I was addicted to the creamy crack so it was my job to educate them so they could understand why I decided to go natural.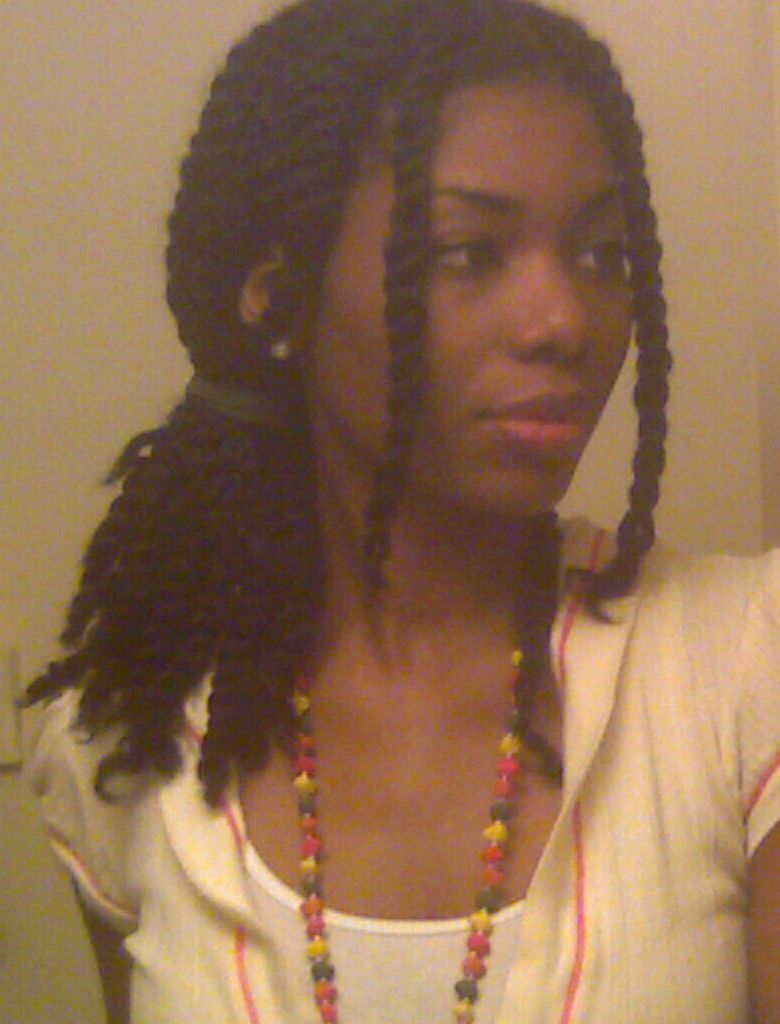 Kcurly: What is your current regimen to keep your tresses healthy?
Chime:
~I wash my hair once a week.
~I co-wash with Aubrey's Honey Suckle Rose conditioner. I used to shampoo my hair with Aubrey's Island Naturals and Honey Suckle Rose shampoo every 2 months but they both made my hair feel stiff so I stopped using them. I'm still looking for a great all natural shampoo.
~I don't wash my hair in braids anymore. I wash my hair in four sections. One section at a time. It doesn't tangle as much this way.
~After co-washing, I spray my hair with a Vegetable Glycerin and water mix, Giovanni's leave-in conditioner, and I seal it with Coconut Oil.
~I only comb my hair after I wash it and it is still wet.
~I deep condition my hair weekly with Aubrey's Glycogen Protein Conditioner. Most of the time I wear three plastic caps with a stocking cap to bed for an overnight conditioning. I usually do this on Fridays and rinse my hair when I wake up and then I'll twist it. If I don't have time to do an overnight conditioning or I'm out of the Glycogen Protein Conditioner, I'll use the Honey Suckle Rose and wear a plastic cap for an hour or however much time I have to spare.
~I twist my hair after I wash it. I wear twists about 75% of the time. I wear my hair "out" to church or when I want to go out and look FIERCE! lol
~I use coconut oil on the ends of my hair daily. Some people don't use oil or grease but I do. It works for me. I grew up using oil in my hair and it grew to be waist length until I got that awful perm.
~I only use all natural products or products that are at least 98% natural. I order mostly from iherb.com.
Kcurly: What do you love most about your hair?
Chime: The volume! I love big hair! It is unique and I love being outside of the box. A lot of women don't rock their natural hair so you definitely stand out in a crowd!
KCurly: What has been the hardest part of your natural hair journey?
Chime: Transitioning. I transitioned for over 2 years and it was difficult managing the two textures for so long.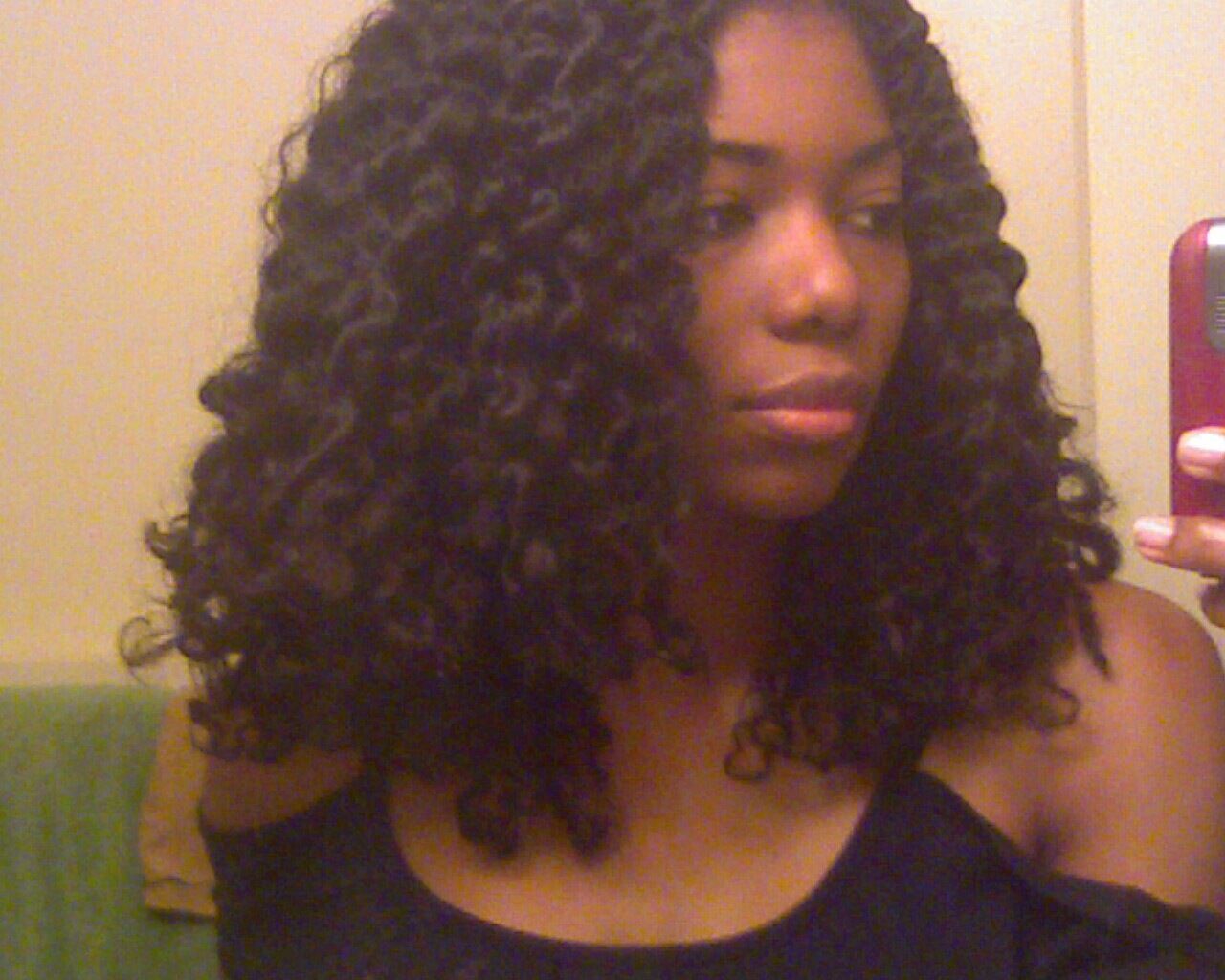 Kcurly: What advice do you have for the newly natural ladies?
Chime: Educate yourself as much as possible on how to care for your hair. Visit natural hair websites, blogs, and watch youtube videos to get tips. It will make your hair journey much easier.
The "bidness":
Kcurly: What prompted you to start your own online business?
Chime: I have always wanted to design graphic tees for natural women so when I discovered cafepress I jumped at the opportunity!
Kcurly: What kind of items do you have available at "Sunkissed"?
Chime: Graphic tees with cute sayings about natural hair, tote bags, and baby bibs. More products coming soon!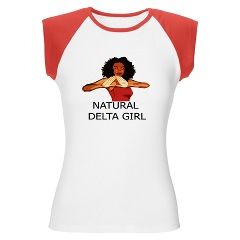 Kcurly: What is your favorite t-shirt design and why
?
Chime: I can't just choose one! I love them all for different reasons!
Kcurly: What plans do you have for your company in the future?
Chime: Growth! I definitely want to become a completely independent company and cut out the middle man.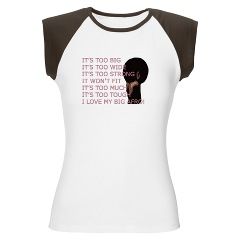 Kcurly: Is there anything else you'd like my readers to know about "Sunkissed"?
Chime: If you are proud of your natural hair and you want an original design to express your love for your hair, you will love the site! It's all about embracing our Black beauty!