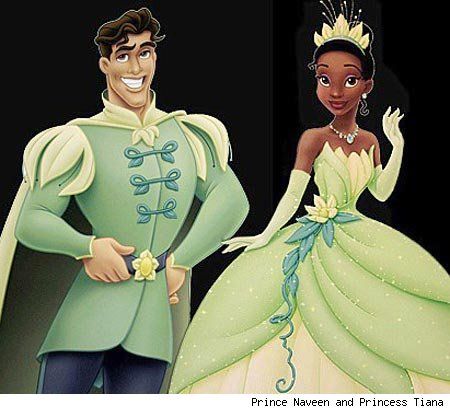 An email from Keah:
So Kcurly, I wanted to get your opinion on this. We are taking the kids to go see The Princess and the Frog this weekend, and I sent the trailer to my husband cause he hadn't seen it. Now he emailed me back a valid question, Why do they have Tiana dating a white man? I never thought about it until he brought it up. That is rather interesting. Even though he is a rather tanned man, he is none the less white. So why is it the black princess can't have a black prince??
Keah, thanks for the email. This has been a topic of discussion for awhile.
First, he's not supposed to be white. Disney has said that he is Latino/Hispanic in origin. He does have a pronounced accent and kind of an olive skin tone. So, why is he not black? I have no idea.
Perhaps it was hard to work a black prince into the story that's set in 1920-30s New Orleans. There certainly wouldn't have been any African American princes walking around, but I suppose they could've made him an African prince of some sort.
Presenting a message of racial harmony could be another reason behind it. Though, we've had at least two other interracial Disney couples that I can think of in the past: Pocahontas and Cinderella (live version with Brandy).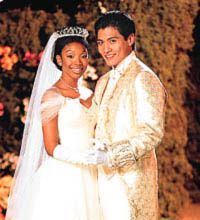 I'm all for racial harmony. How could I not be with my son being biracial?  However, I'm also all for black love and that love being shown in a positive light. I think it would've behooved Disney to have had a Black prince to go along with their first Black princess. Make him tall and dashing, just like all of the other princes.
To top it off, the villain is a black man, some kind of voo-doo doctor that turns the "prince" into a frog in the first place.  If the voodoo doctor were the only black man in the movie, I'd be incredibly pissed off. However, we do have one saving grace, it seems: Tiana's father.
He is attractive, a good father and husband, and …is probably in the movie for all of, say, 5 minutes. I suppose I should be happy that the father is present at all. If you're a Disney freak like me, you know practically none of the princesses have both parents in the picture.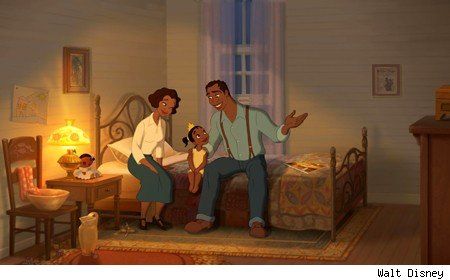 I saw an article claim that the reason this movie has a non-black prince is because it would officially make this a black film… and that Disney couldn't tolerate that.
I can't agree with this assumption. I mean, the princess is black. She's the one that's going to be on the backpacks, posters, and coloring books. Sure, the prince is important and all, but the princess is what makes the money, what draws the attention, what little girls aspire to imitate.
My overall feeling about the whole thing is this: I'm not sure!
It's the first black Disney princess. It's something I've always wanted and it brings a big smile to my face everytime I see her. It's not going to be perfect. It's definitely not going to make everyone happy. They already re-hauled the whole story after an outcry over the plot early on. Disney has come a long way from stories like Song of the South.
On the other hand, should we just take whatever bone is thrown to us. Ok, maybe that was a bit harsh, but I hope my point comes across. For now, I'm still excited. I will be seeing the movie this weekend and will keep an open mind until then.
I would love to hear everyone's opinions on this one though. Leave me some comments!