Thanks to Michelle of Radiant Brown Beauty  for sharing her natural journey with us.  I have to say: Lovely hair and lots of great styles! See even more on her Facebook!
How long have you been natural?
I've been natural almost 6 years.  Unfortunately, I didn't keep track of the exact date.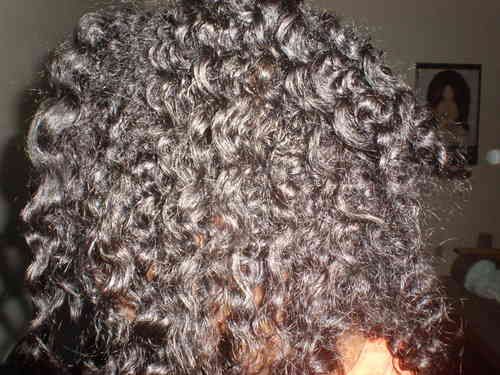 How long did you transition?
I started out transitioning for about 2 months then I caved and relaxed LOL.  I was determined though to get the chemicals out of my head.  I knew that relaxing was thinning my tresses so I had to keep trying to get past the blockage of how to care for the two textures of hair.
When my hair got to about 6 inches of new growth and about 4 inches relaxed, I went to a stylist and had him cut it all out.  It was not as liberating for me as others have mentioned when they did a big chop.  Still, I just washed and flat ironed my hair to keep it straight.  I didn't really know how to take care of my newly natural hair so that's what I did up until about May of this year.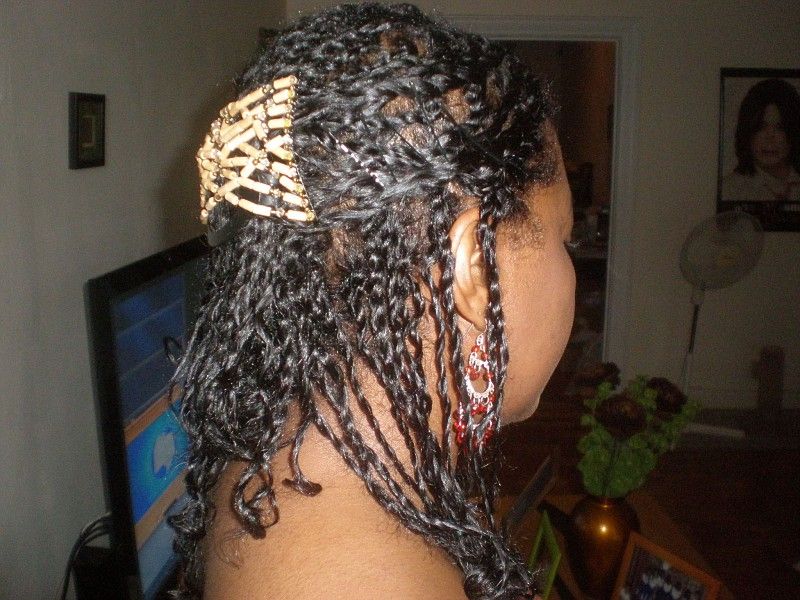 What have been your biggest obstacles to overcome?
My biggest obstacle is the fact that my hair is so many different lengths now.  Because I was flat ironing, I incurred a lot of breakage on the sides and at the crown. My hair in those areas is about 5-6 inches long while the front and bottom of my hair is closer to 13/14 inches long.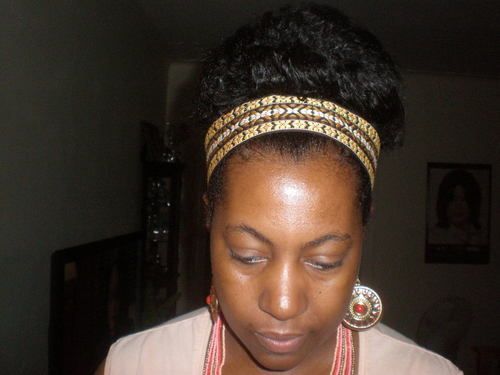 What are your favorite styles to wear?
I'm protective styling like crazy because I truly want to reach my hair goals which is bust length hair all around by end of 2011.  While I've reached it at the bottom, my crown and sides have a little ways to go still.
Therefore, I either wear my hair in a bun, double bun or banded up and pin curled. Also, I typically bun my hair using a banana clip more than an elastic band. I have literally no breakage with the banana clip and with an elastic band I tend to get a few broken hairs at times.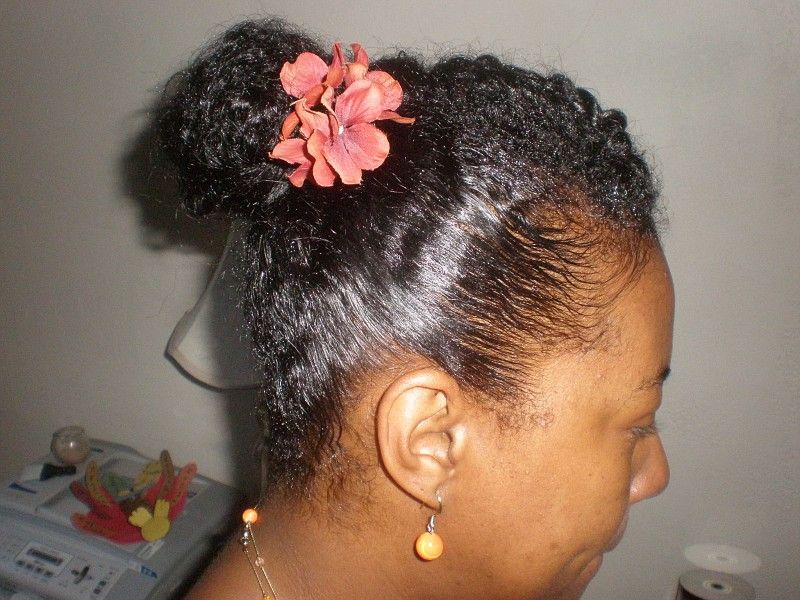 What are your favorite products?
Now, how are you gonna ask a PJ that question LOL. Ok I'm stepping out of that mentality by refusing to buy another product until I'm near empty.
My favorite product lines are currently As I Am Naturally and Shea Moisture.  I still aspire to use some other lines that I hear people rave about though: Oyin Handmade, DevaCare and Quemet Biologics
For individual products I love and use on a regular: Jojoba Oil, Henna, Kimmaytube Leave In Conditioner, Jamaican Black Castor Oil, Herbal Essences Hello Hydration/Totally Twisted, Aloe Vera Gel and Nourish and Shine by Jane Carter.  These products are my staples along with the products in the As I Am Naturally and Shea Moisture lines.
I shampoo with either As I Am Naturally Curl Clarity Shampoo or Shea Moisture Hair Thickening Shampoo.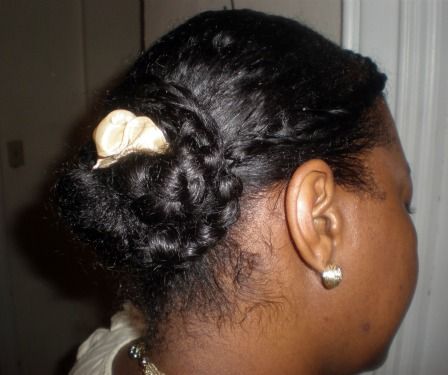 Any advice for the newly natural ladies out there?
Sure, I got lots of advice
but I'll stick with three points:
#1- Don't base your results on that of other ladies.  Everyone's hair is different, grows at different rates and the curls define differently.
#2 – While transitioning be careful to keep the two textures blended or you risk breakage. BUT, remember that just because someone else big chopped doesn't mean you have to.  As long as you keep your hair conditioned and moisturized, you can transition and trim out the relaxer over time.
#3 – Going natural can be fun but costly if you allow yourself to get out of control. If you have products that you like and find working for your hair, stick with them.  You don't have to use everything everyone else is using to be successful with caring for your hair.  I know this sounds funny coming from someone who just called themselves a PJ. I like to try new things but for my staples, they shall remain because they work for me. Find what works for you.
Comments
comments
Powered by Facebook Comments