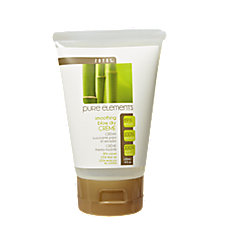 Product Name: Smoothing Blow Dry Creme
Company Name: Pure Elements by Zotos
Price: $9.99 4 oz
Ingredients: Water/Aqua/Eau, Glycerin, Cetyl Alcohol, Glyceryl Stearate SE, Carthamus Tinctorius (Safflower) Seed Oil, Helianthus Annuus (Sunflower) Seed Oil, Benzyl Alcohol, Sucrose Stearate, Butyrospermum Parkii (Shea) Butter, Chondrus Crispus (Carrageenan) Extract, Bambusa Vulgaris Leaf/Stem Extract, Simmondsia Chinensis (Jojoba) Seed Oil, Cetearyl Glucoside, Cetearyl Alcohol, Dehydroxanthan Gum, Potassium Hydroxide, Benzoic Acid, Hexyl Cinnamal, Benzyl Salicylate, Limonene, Linalool, Fragrance/Parfum
Consistency: Creamy, lotion like
Scent: Perfumy, a little strong
Review:
I simultaneously love and hate this product.
First, background and product claim:
Smoothes hair and adds body
Adds shine, definition & moisture
Prevents damage from blow drying
Soft hold tames frizz even in high humidity

Pure Elements Smoothing Blow Dry Cream is a 89% natural formula with Pure Bamboo Extract that dramatically smoothes hair while adding gorgeous body and preventing damage from blow drying. The soft hold tames frizz even in high humidity. Pure Elements harnesses the healing power of potent plant actives to protect and repair.

Pure Elements Smoothing Blow Dry Cream is free from sulfates, parabens, silicones, animal derived ingredients, artificial colors & dyes, glycols, gluten, DEA & MEA.
I found this at Sally's. There was a big sign that next to it that said "Great for Natural Hair!" or something like that. There was also a coupon to buy any of other item in this product line and get the blow dry creme for free. How could I not get it?
Ok, I could've left it alone but my PJ has been pent up too long behind the budget of a stay at home mom.
So I grabbed it, along with a shampoo from the same line. They had a $10 deep conditioner but I already had my Lustrasilk in the cart and it is 3 dollars, thank you very much.
If you've seen my past postings on heat usage, you have seen me bemoan the fact that I have to use silicones both for heat protection and to fight reversion. If you've seen my postings on silicones, you know my hair hates them.
Another thing I found interesting about this product was that it wasn't a serum or a liquid, which most heat protectants seem to be. It was a rich looking cream!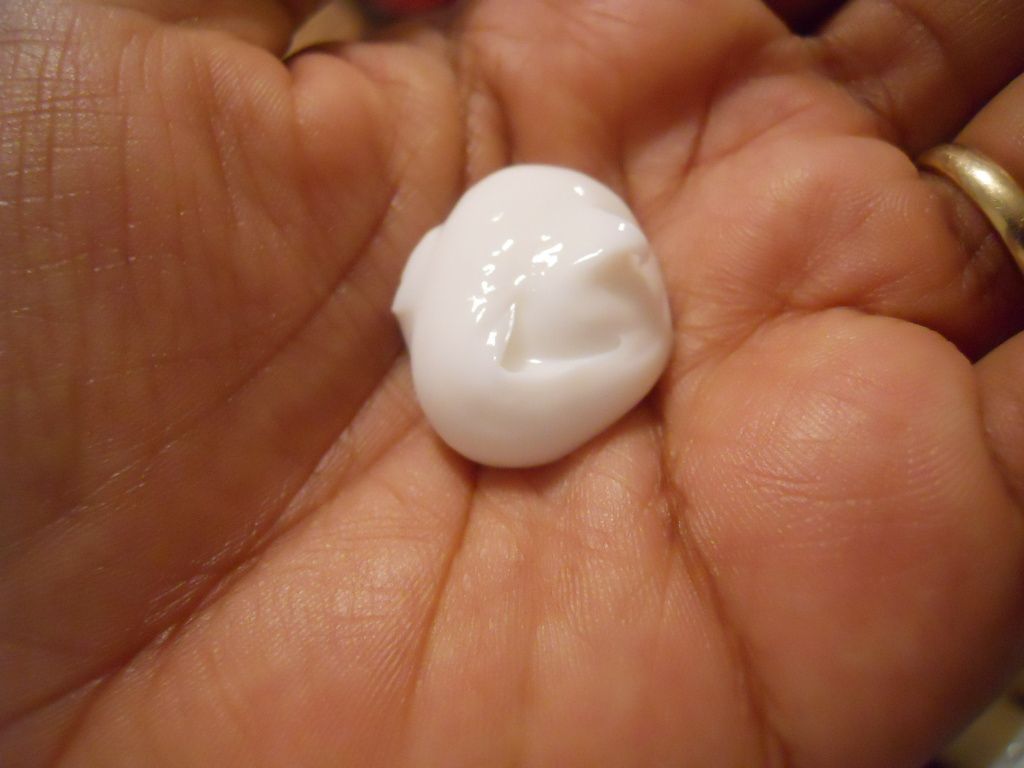 Let me tell you: My hair felt GOOOOD. It was soft, shiny, moved. I loved this stuff. It felt moisturized but not greasy. It was perfect. I flat ironed after I blow dried it and you couldn't tell me nothin!
Until…I worked out the next day.
I always have a little reversion. I wore my hair the way I usually wear it while exercising when my hair is straight. My reversion consists of my edges or nape getting a little wavy. Maybe I have a lot of wrinkles right near the roots.
This right here was near to full reversion for about 4 inches from the roots.
So, I love the way it made my hair feel after styling. Did not like the way it abandoned my hair after encountering a little sweat. I guess I will be sticking to the 'cones when it comes to straightening.
I also tried this on my hair without blowdrying. I was just experimenting because it worked so well with the blowdryer. I was not enjoying the results. My hair was sticky and stiff after. I suppose it needs the heat from the dryer.
Anyway, if you're not big on working out or you don't sweat much, this might work for you.