You may or may not have heard of a children's book by actor Taye Diggs called "Chocolate Me".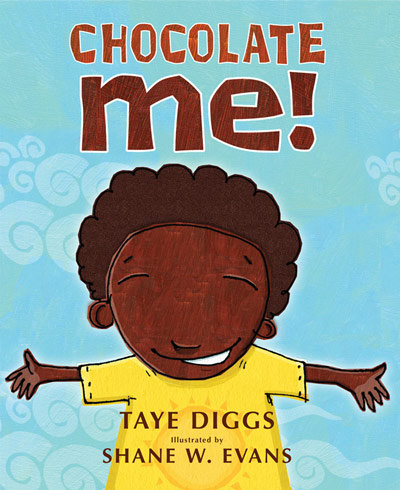 I am immediately excited when I hear of books that help a child to celebrate something about themselves that may not be embraced by the majority. However, I had to pause when I saw Taye Diggs as the author. It's no secret that he has made some public remarks that many consider to be a put down to black women. So, there may be many who shun this book because they hate Diggs.
On the other hand, I have to admit that  someone who has had childhood insecurities about the color of their skin would probably be the best person to write such a book. From TheRoot.com:
We're guessing that after 10 years of fame in Hollywood and on Broadway, Taye Diggs feels pretty good about the way he looks these days. But that wasn't always the case. He says he was uncomfortable in his own skin as a child, and it had a lot to do with being one of the few black children in his hometown of Rochester, N.Y.

"I lived in a neighborhood where nobody else looked like me," said Diggs. "My mother took me aside and basically told me to embrace my differences."
And from an interview with Diggs about "Chocolate Me":
"When I got into high school I started to hear, just from the black community, everybody is more attracted to the light skin girls and the light skin dudes with the light eyes. And from within the race the light skin black people and lighter brown people would make fun of the darker people. So then it was a completely different kind of struggle. And then funnily enough it was when dark skinned men, and this was just from my perspective, there seemed to be a shift where all of a sudden we saw Denzel Washington, Wesley Snipes, Tyson Beckford. I'm still trying to figure out how this came to be. For me, when I saw Tyson Beckford hailed as this beautiful man by all people, that caused a shift in my being. And I remember literally waking up and walking the streets feeling a little bit more proud. And then after the movie "How Stella Got Her Groove Back," when I had my own personal moments of weakness, I just had to remind myself of all the people that really enjoyed that movie and just kind of lean on that"
What do you think? Has anyone read the book? Will you be getting the book for your child?
Here's a preview of Chocolate Me!
 that I found on Amazon. I will try to get my hands on this book sometime in the future for a full review.