There's been a lot of excitement about the recent cover of O magazine because Oprah is wearing her "natural" hair. Here's a picture in case you missed it.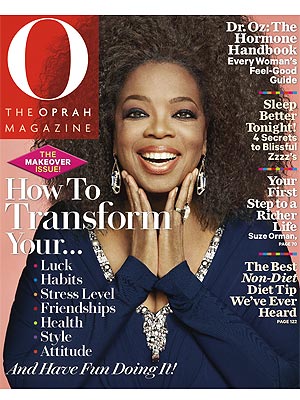 While I admit that she looks great, I am doubting she is natural in the sense of being chemical free. In fact, I am 99 percent sure of it. Here's my reasoning:
Hollywood types use the term "natural" when referring to someone's real hair,meaning no weave or wig. Oprah is known for sporting weaves and has admitted it on her show. Who can blame her ? I certainly wouldn't want my real hair going through the abuse that must come with being on television daily. Andre Walker, who I will get to later, has stated this on his website: "You see, even relaxed hair can still be worn naturally." See? They don't use "natural" in the same way.

Most people associate thick hair with natural hair. And Oprah has some thick hurrrrr! I know it, because I also have thick, dense hair. Even relaxed, her hair has a thickness that rivals some natural folks. It is not surprising that people thought her blowout picture was "proof" of her natural hair. When I was relaxed, my blowouts would look similar to this: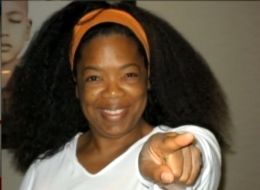 If you've seen the episode of Oprah when Chris Rock was showcasing his movie "Good Hair", then you may remember Oprah telling him that her hair was real and not a weave (at that taping). Around that time, there was a behind the scenes clip in which someone in the audience suggested that Oprah go natural as an example to other women (I can't remember exactly what was said but that was the gist). This clip was on YouTube but I can't find it now to save my life.

Anyway, Oprah was shaking her head before the audience member even finished what she was saying. I've seen that response to going natural too many times in real life to think she would've changed her way of thinking that fast.

Andre, her stylist, clearly has issues about certain kinkier hair types himself. You may remember his quote from the interview with Elle magazine: " I always recommend embracing your natural texture. Kinky hair can have limited styling options; that's the only hair type that I suggest altering with professional relaxing." There is a similar feel from his book "Andre Talks Hair" which I read a few years ago.

Anyway, back to Oprah (doesn't it always come back to Oprah? ) In this short article from 2011, he mentions relaxing Oprah's hair. I'm sorry, ya'll. Oprah is a fantastic human being, but I don't think even her hair could grow that fast.
It is my humble opinion that Oprah is relaxed. This "natural" style is probably Andre's version of being "naturally" relaxed or what-ever-the-hell-he-was-talkin-bout. I'm thinking she is texlaxed (lightly relaxed).
You may be asking yourself why I care or why I'm calling Oprah out.
Don't be mistaken.
I love Oprah. I am not trying to speak poorly about her in any way. Her hair is very thick and lush. However, I think it's important that new naturals or people considering going natural be aware that "natural" means different things to different people.
I also have to wonder why we, the natural community, want Oprah to be natural so badly. And I know that for me, to have one of the most powerful and visible African American women (heck, women period), sport natural hair would be too totally awesome.
So, in case you need to whet your visual appetite for some successful natural hair, here's a wonderful example that I heard about not too long ago.
From her Wiki:
Majora Carter (born October 27, 1966) is an economic consultant, public radio host, and environmental justice advocate from the South Bronx area of New York City. Carter founded the non-profit environmental justice solutions corporation Sustainable South Bronx[1] before entering the private sector.
Comments
comments
Powered by Facebook Comments