It was an honor to interview the founders of GoDiva Dance Studio. I love seeing black owned businesses, but especially a black owned business that focuses on health and wellness. Not only that, but they are all three relaxer free.
If you're looking for alternative to your daily workout, with a little something extra that might benefit your SO, exotic fitness might be for you!
Now, Kcurly would need a lot of encouragement to do these classes but I am sure it would be fun! Check them out if you're in the Bloomfield, NJ area!
GoDiva Studio was founded and opened on April 20, 2010 by Ty Smith, Nikki Philip and Sonya Miller, with a mission to empower women to their own sensuality using exotic dance as a form of fitness and has quickly become New Jersey's premier exotic dance studio. GoDiva Studio is located in Bloomfield, NJ and caters to clientele located in Essex County and beyond. With 5,000 square ft, this space is outfitted with three studios dimly lit with candles and chandeliers, creating a relaxing environment as one embarks on the new adventure of exotic dancing.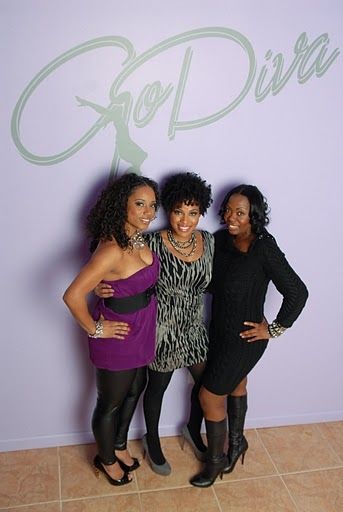 How did ya'll get started participating in these types of classes?
Ty: I got started taking exotic dance classes for fitness in 2007 when I moved to Atlanta. I had never been into traditional gym workouts but I recognized I needed to do something to stay in shape.
Nikki: Ty started taking the classes in Atlanta and she would tell Sonya and myself about them.
Sonya: I work out 6 times a week and Ty would share with me her experience taking exotic dance. I looked for classes near me but the closest were in NYC.
What are both some mental and physical advantages to the types of classes you offer versus more traditional workouts (such as walking)?
Ty: The advantages of taking these types of classes are that they are more than just a work out. These classes help build confidence, increase flexibility & strength, improve poise, they are fun and most importantly the routines learned can be used to spice up your love life outside of the fitness studio.
Nikki: Mentally the classes help the ladies come out of their shell and combat their shyness by building confidence.  Physically, our customers are getting fit but they are also building strength.   There are people out there who appear muscular and toned but they are not strong.  You can see how strong our customers are getting, especially in the pole classes because they can do things today that they couldn't do 3, 6 months ago.
Sonya: GoDiva Studio is a place where woman can develop or rekindle their sensuality and self esteem. Many women come to us as a release from everyday stresses. Physically, they reap the reward of 2 or more hours of cardio. Our classes are fun, which attracts our ladies to take all the classes offered in a day. In some cases, they end up taking 3 hours of exotic dance in 5 ¾ stilettos.
Could you share with us your most popular classes?
Ty: Our most popular classes are GoBooty Pop, GoPole Tease & GoStrip Tease
Nikki: I agree with Ty.
Sonya: Yeah, GoBooty Pop, GoPole Tease and GoStrip Tease.
What advice do you have for the ladies out there who would like to do these classes but  might feel too shy or self conscious to get out there and try it?
Ty: My advice to them would be that over 90% of the women that visit our establishment for the first time felt the same exact way and those women are now the most comfortable and outgoing in the studio. Remember that we are all here to have fun and get fit. This is one of the few places you can go where you will not be judged so get out of your own way and come join the party.
Nikki: If you are close enough to come, go GoDiva Studio :). If not, try to find a studio that keeps the class size small or do a private session alone or with a few friends.
Sonya: Don't be afraid, our studio's ambiance is sexy and inviting. Add exotic dance to your bucket list and stop on by!
Tell us more about the "GoParty" service. That sounds very interesting. What types of parties are usually involved?
Ty: The types of parties we usually have are bachelorette, birthday, just because, get over him and many other types of parties.
Nikki: (Ty answered)
Sonya: Same as Ty and we offer party add-ons, such as studio rental. Studio rental in 30 mins or 60 mins sessions allows the ladies to enjoy refreshments or just hang out for girl talk after the instruction. It's a great addition to any party.
We are all aware of the disproportionate rate of obesity in the African American community. As women of color, what do you feel can be done to increase the percentage of African American who make physical activity a part of their lives?
Ty: One of the main reasons for the disproportionate rate of obesity is that many of us do not enjoy working out. We sometimes consider traditional workouts boring and monotonous. We have to continue giving women more attractive fitness options. One of the main reasons why GoDiva Studio was formed was to give women an affordable alternative approach to fitness that they can enjoy.
Nikki: I think the key is finding an activity that you enjoy and adding variety so you don't get bored. I tend to get bored very quickly so I am always switching things up and that helps tremendously.  I also think we have to encourage one another to become more active. You are more likely to get out and do some sort of physical activity if you are doing it with a friend.
Sonya: From my own experience, it was simply knowledge. In my late 20s I started working out regularly. Before that I didn't know which types of work outs would produce the best results in my body. Through the years I found the right regiments for me and that kept me entertained. Then just this year I wanted to shed 15 extra pounds and I didn't know how. My diet was the problem. Through a special eating program I learned how to track my caloric intake and how to eat properly. Now, I am in the best shape I've been in my life. I feel if more women were equipped with options of combining the correct cardio and diet they would use it. It's about getting you out the way and trying a new way of life. GoDiva Studio offers knowledge through our classes we are teaching women that cardio can be fun and sexy!
Do ya'll find having natural hair as an advantage to leading an active lifestyle?
Ty: Though I am natural I wear my hair blown out and it has been a bit of a disadvantage to leading an active lifestyle. However, it has led me to be a bit more creative with the way I wear my hair when I am working out. Now when I workout I wear my hair up in a ponytail and I wear a sweatband so that I don't completely sweat my roots out.
Nikki: Yes for me having natural hair is definitely an advantage when you're active, especially when you are wearing wash & go's.  Now that I wear my hair natural I tend to work out a lot more in the morning because I can just wash my hair afterwards. Working out in the morning helps me quite a bit.  I get up and get it over with as opposed to waiting all day and then finding excuses not to.
Sonya: Yes, I am natural but I choose to wear a full sewed in weave. My weave definitely makes it easier for me to stay active.
What is your favorite natural hair style?
Ty: My favorite natural hairstyle is the braid out.  It is my favorite because it is sexy and very flexible.
Nikki: I love twistouts and wash and go's during the warmer months.  When my hair grows out a little more I will try some other styles.
Sonya: I currently wear my natural hair braided in a sewed in weave. This fall I plan to wear my hair out. Nikki has inspired me to rock the wash and go. I can't wait to give it a try.
{ 0 comments }