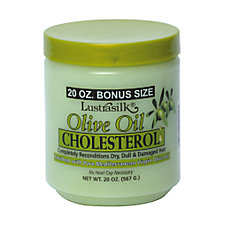 Product Name: Olive Oil Cholesterol Conditioner
Company Name: Lustrasilk
Consistency: Thick, Gloppy, Creamy
Scent: Muted, faint
Ingredients: Water, Stearamidoproply Dimethylamine, Stearyl Alcohol, Cetyl Alcohol, Olive Oil, Cholesterol, Soybean Oil, Safflower Oil, Wheat Germ Oil, Aloe Vera Extract, Fragrance, Vitamine E, Methyl Paraben, Propyl Paraben, Phosphoric Acid, DMDM Hydantoin, Sisodium EDTA, Yellow # 5, Blue # 1.
Price: 2-3 bucks
Purchase from: Sally's, Drugstore
Review:
Add this one to the list of great and affordable "cone free" deep conditioners. I was in Sally's trolling for undiscovered (by me) hair products and also to pick up more of my Lustrasilk Shea Butter +Mango Cholesterol (LSBC+) conditioner. The Lustrasilk Olive Oil version was on the shelf right next to the LSBC+ and, after reviewing the ingredients and the price, I scooped it up as well.
It's very similar to LSBC…pretty much the same consistency, price, and ingredient list with a few changes. The smell is not that great. Or rather, the smell is unremarkable. So if you found the scent of the LSBC+ unpleasant but enjoyed the results, you may want to give this one a whirl.
My hair was very soft and moisturized after using this. I left it in for an hour with a plastic bag on while I worked out. The slip was decent and I had a moderately easy time detangling. I left in a little after I rinsed and  it seems to make an excellent leave in as well.
I think, however, I will be sticking with LBSC+ because I enjoy the smell more. There are many times that I go to purchase LBSC+ and it's sold out, so I hope the Olive Oil version will be there as backup.
{ 1 comment }