The folks at HatSoMe sent me a couple of loaner hats to try out (you can see my other posts about HatSoMe here and here). I just finished drying my tears as I repackaged them to be sent back. But, I did get to try them out and they are fantastic.
The first thing I worry about with items made of fabric is the quality. I've had an off and on relationship with sewing, quilting, and crocheting so, as a result, I have certain standards. I can't stand shoddy workmanship. Fortunately, this was not something I had to worry about with HatSoMe.
The hats I was sent are very well made, from what I can see. The knitting looks great and the lining is well done. I was really worried about the lining because I've seen linings just half-arsed thrown into too many items. Next thing you know, your lining is literally hanging on by a thread.
Now, of course, I am no expert and can't vouch for the life of the hats long term, but they look to be pretty sturdy.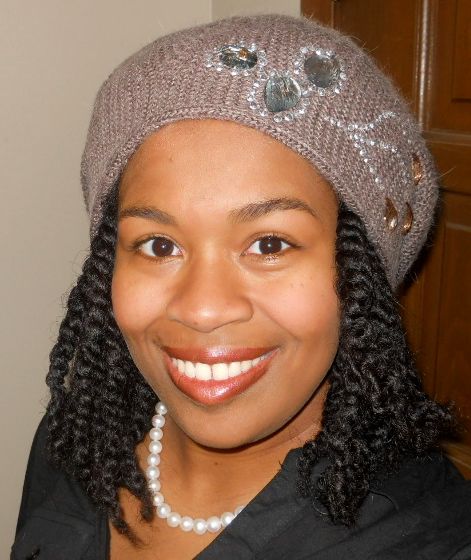 I loved, loved, loved this first hat. It was probably my favorite. (You can see the hat here).  I liked it because the knit felt so soft, it fit my head really well, and it was super cute. The stones and gems also give it a unique flair. In the day that I wore it, I got a ton of compliments.
Mostly, it felt great wearing a hat like that (ie something warm!)  and not worrying about my hair underneath or having to apply my satin bonnet beforehand.
The sizing on this one is medium-large, according the site. I have a big head and even bigger hair, so I need a nice sized hat.
(Side note: My daughter went for her one year check up and they said her head circumference is in the 95th percentile. That's a big ole head! I said to the doctor "Yeah, that's all me right there")
The cost is $39.95, it's an acrylic blend and comes in pink, grey, and taupe.
The next hat I tried was a pink cable knit with speckles (I friggin' love cable knit!). I loved the hat…from afar. It did not fit well on my head. The website says the size is medium. It was a tight squeeze when my hair was in twists and it was uncomfortable once my hair was in a big twist out. I think the model wearing the hat in the picture has a TWA or fade, so it fits her nicely.
My best friend has a normal sized head (she sports locs) and it fit her pretty well too. It costs about 30 bucks and is available in other colors that include black and white.
Next was the hooded scarf.
I aint gonna lie.
This thing was gorgeous on me.
I loved it! Not only is it very unique but is toasty warm. I wore it on a trip to an outside shopping mall. When I'd go in the shops, I'd take the hood off and still have on a fashionable looking scarf. Very well suited for my bigger hair styles and also my bun.
Here are my only negatives. First,  I noticed that it did "ride up" a few times, making the point of the hood stick up in the air. A quick readjust and it was all good. I'm sure I could've tucked it some kind of way that would've permanently helped the situation but my laziness coupled with trying to keep my 1 year old from ripping her hat off stopped me from putting in any serious effort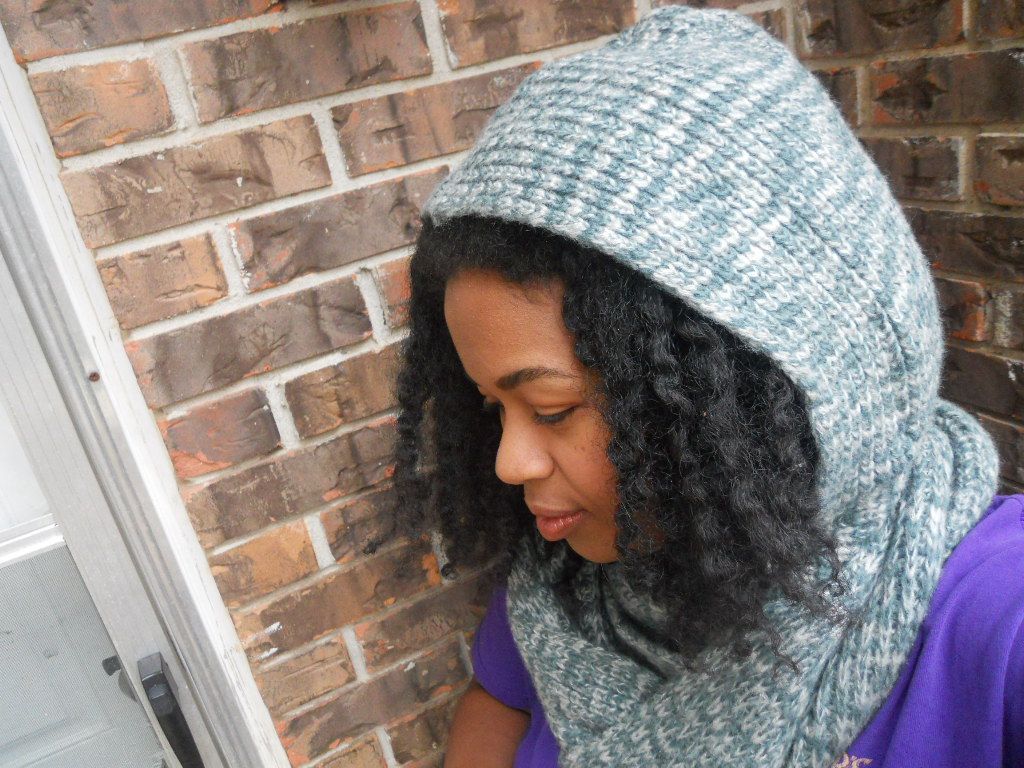 The other issue was that the satin will not protect all of your hair if comes to/past your shoulders. As you can see from the pictures above, there's only a certain amount of satin so you have to still watch your ends if your hair is a certain length.
It's made of a nice and  sturdy , but soft, wool/acrylic blend. The cost is about 50 bucks and it comes in other colors. There are also some other styles of knit if you don't like the one featured.
Anyhoo, thanks to HatSoMe for letting me try these out. I will no doubt be making a purchase soon, once I can figure out which one I want.
HatSoMe was also kind enough to provide Newly Natural readers with a holiday discount! Use the code HsNN10 and receive 10 percent off your entire purchase (this is really awesome because I think they have a sale going on too!) The code expires December 31, 2011. 
{ 3 comments }